Submitted by XL-Network on Tue, 2011-06-14 19:54
Last Saturday I competed in the International Pentecost Rowing competition in Delfzijl. A fun competition where anything goes. There are a number of mixed fields where men an women are together in the same boat. Usually that is uncommon in competitions, but in Delfzijl that's no problem. In the first heat I rowed with four women (and of course three men) in a Mix8+. After that I steered a 8+ which I have never done before (I have my steering degrees, but it hasn't home to it yet). Finally I steered the team I coach in the final and third heat. Unfortunately no prizes were won in the second or third heat, but our Mix8+ did win a medal. Despite the number of women in the boat that have never rowed in a sweep boat it went pretty well. The first medal is a fact.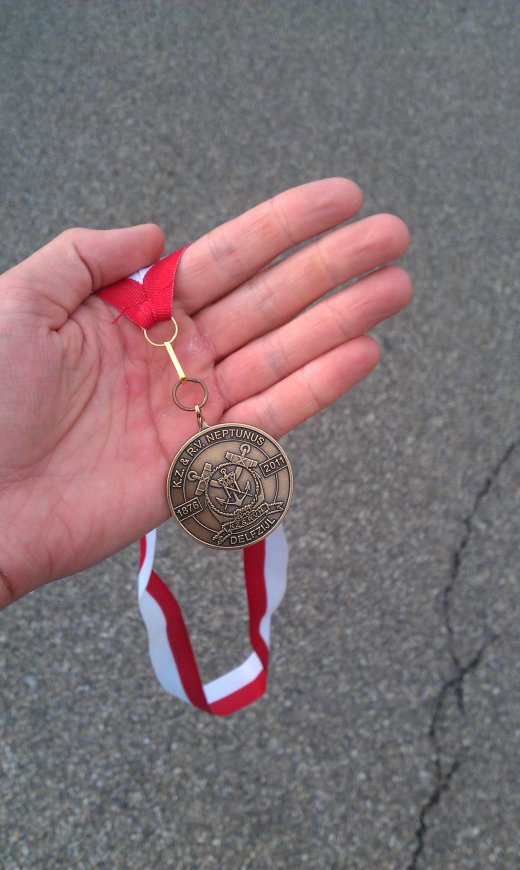 The next day I headed for Witmarsum, a few kilometers from Bolsward, to stay there for the night to do the 'Ride of all times', the fietselfstedentocht. Seeing that my velomobile is in a container headed for America I had to do this ride on a different bike, my Rowingbike. After waiting for the reception to open a set up my tent and about a hour later Johan van B. from Twente arrived. He had managed to find a empty spot on this camping, thanks! And after we ate a big plate of spaghetti at a local cafe called 'De Gekroonde Roskam' we did a 5 rounds of bingo at the camping. That's when I decided it was enough. Tomorrow the alarm clock would go of at 5:45 AM.
At the starting line it was crowded and about 20 minutes later than I had planned I finally received my first stamp. Shortly after that it started raining (which it had done all night). It didn't matter that much to me. Fortunately the weather improved during the day. Around 3 PM we received our first surprise... an apple! After many ours of cycling that was a welcome treat. I also met some familiar people along the way. In Leeuwarden I saw Jolanda D. and a moment later I spotted Gerold and Maartje O. on their recumbent tandem. I joined the last tandem couple for a while and a few kilometers before Bolsward we turned onto a small camping where more recumbent people I know were camping there. I was offered a cup of tea, an egg and some pasta. And while the tandem duo stayed a little longer wanted to get going again. A few moments later I ran into another familiar face. Marjon van der K. and her Quest were standing on the side of the road talking to her parents. She was just about to leave, so I joined her. Despite the majority of the trip having to cycle into a head wind, the last kilometers along the dike and back to Bolsward went like crazy. At some point I was doing around 40 km/h. And I stopped counting the number of other cyclist that only saw the back of my bike.
When I arrived in Bolsward I quickly got the last stamp and the medal which I had cycled all day long to get. We finished the meal with a big plate of fries and a schnitzel. After a good dose of sleep we woke up the next morning around 8:30 AM. For me it was only 75 kilometers to my house. Johan would join me and continue onward to the Ligfietsgarage Groningen.
and a number of scratches on my bike. At the quick release of my rear wheel and my brake handle weren't to bad, but the scratches on the side of my frame are not so pretty. The wounds on my elbow will heal themself, but the scratches on my bike wont'. Luckily the people of the first aid patched me up very well a few kilometers down the road.So that's two medals... but what about the souvenir? I was only about 7.5 kilometers on my way when at the first wet and slippery corner I crashed. At first I felt my front wheel slip and thought I could keep it straight, but eventually I went down (at the amusement of some other cyclist behind me). Shortly after my crash another person fell down and I asked one of the traffic controllers if he couldn't do something about it. Anyway... the result was a nicely shaved elbow.
A total of almost 400 kilometers in three days you'll notice. I didn't have to much pain in my abdominal muscles, arms or legs. Only a sore tendon on my right arm which was big and red. I thing I overloaded it a bit. If I listen closely I can hear it cracking. I've had the same with my Achilles and recovery took very long. I hope this doesn't.
One final thing. I've also made recordings with my helmetcam. It will take a while before it's all put together. My computer is a bit broken at the moment.