Submitted by XL-Network on Sun, 2011-08-07 13:50
I will never again complain about the quality of our Dutch cycle paths. Today I encountered a (fortunately short) piece of road that was so bad that if I would have had fillings they would spontaneously jump out. And the cattle guard is a bit bigger than back home. The gaps are so big a small child could fall through. Just like the rumble strips, quite dangerous.
Some things still amazes me regarding their size. Big trucks, RV's that are towing a car behind them, trains more than 2 kilometers long and very big sprinkler systems that seem to be hundreds of meters long.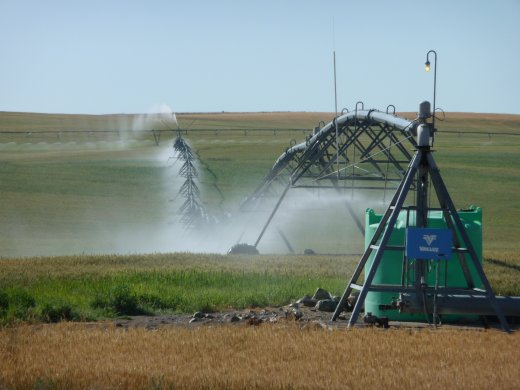 Annoyances are also there. For instances the cable that's holding my steer up has shifted two days ago causing me not to ride very comfortably (it was laying on my belly). I want to fix it tomorrow (on the rest day). Besides that my cadence sensor quit. The magnet and sensor might not be aligned properly (could be connected to the steer cable).
Funny. Yesterday we encountered a lot of dragon flies. The little critters where sensible enough to get out of me and my bikes way so it wouldn't crash in to me. The locusts were less intelligent. They kept jumping in though the foot holes of my bike. The first time this happened and one jumped on my leg I got frightenedend a bit. I thought it was another instant that wanted to bite me. Earlier this week I had a close encounter with a bee. The nice thing is that if you went down the hill at 70+ km/h you would hear "tick tick tick" from all the little critters that could not jump away in time and hit the bike. At the end of today's ride there were several dead (or unconscious) on the bottom of my bike.
Today I cycled mostly alone. I liked it that way because then I can go at my own pace. At the beginning of the day I briefly went with Bert and Johann, but after I had a little breakdown (the chain went of when I made a shifting mistake) they would wait for me at the next hill. After I fixed the problem I accidentally cycled past them on the top of the hill. Johann had placed his bike out of sight and I thought he cycled on. I saw him again at the lunch stop, at about 175 kilometers.
When I arrived at exactly 6 PM at the KOA in Miles City fellow rider Jorg walked in with a box of 18 Coors beers. He got them from a American who wanted to know everything about our bikes. As a way of saying thank you he gave us the box of beers. The funny thing is that the label changes color. When it's cold enough to drink the mountains behind the logo turn blue. It's quite noisy at the camp ground. A number of crickets in the trees and a train that comes by blowing his horn at the crossings every half hour. At the moment it's quiet and there is no train in sight.
The GPS tracks are very good. The routes are clear, go over pretty nice roads (with some exceptions) and the available waypoints (like camp grounds, coffee- and lunch stops) are mostly well placed. A big thank you for the people who help create them.
The sun was ever so present today (just like the other days). And now that we have left the mountains and gone into the flat lands there is less shade from trees and such. The advice: wear sunscreen. But if you do, do it early. I was a bit late today so it's a little bit red here and there, but not burned. I think that by the end of the tour I will have a nice tan, unfortunately it will not be a even one. The top of my lower arms are nice and brown but the other side could use some more sun. This comes from always riding with my arms out the side of the bike. My neck is also more tanned on the right side that on the left. This happens because we ride east and the sun always shines from the same side.
Lastly I have a idea. A number of people have been asking me questions when commenting on the blog posts. Because tomorrow is a rest day I thought it would be nice to answer some of these questions. So, if you have any questions, feel free to send them in using the contact form. I'll try to answer them tomorrow.
Today we cycled 248 kilometers which brings the total at 1777 kilometers.