Submitted by XL-Network on Thu, 2011-08-11 01:20
On the previous camp site it was the mice who were stealing the snacks, but in Miles City it were the squirrels. Rob wanted to get some food for the day when he spotted now trying to open a Clif Bar. Fortunately there is enough for everyone.
We had a few short climbed today, but the route was mainly going downhill. The climbs are getting tough when you see the Chain Up Area signs. At the Chain Removal Area sign you can relax a bit more (also good to know).
In the morning I cycled with Lee, Mike and Greg towards our next camp site in Bowman. During a downhill we lost Mike and didn't see him again until the lunch stop. Turns out he had a flat tire he had to replace during a downhill. If your going down like a rocket you want to keep your eye on the road instead looking in the rear view mirror all the time to check if everyone is still there.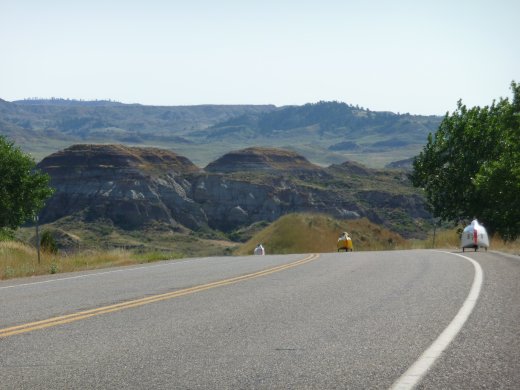 During the lunch stop in Baker we ended up in a nice lunch room / casino. The lady behind the bar was wearing a blue denim garden thing, exactly what you can expect in a small country diner. I had the Finger Steaks with mashed potatoes and gravy with a root beer.
The scenery also turned a little bit greener and we were driving along beautiful fields of grass where the wind was blowing in waves. At the end of the day we left Montana and entered North Dakota. The first thing we saw was a beautiful stretch of super smooth asphalt. Unfortunately it featured the rumble strips and these were a bit more deep than the ones on the interstate.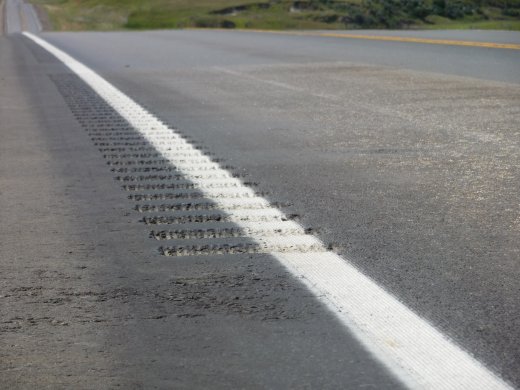 They were also working on the road (for a few kilometers) and Harry and Mike were riding behind me when we went on the temporary side road. At a certain moment I saw both of them stop and I heard someone yell something. I figured one of the construction workers wanted to know more about our vehicles and I cycled on. When the road work ended and I was back on the main road I waited for Harry and Mike, which took a long time. Turns out they weren't making a talk but the bolt of Mikes rear wheel shook loose. One of the nice construction workers brought a spanner to fix it back into place.
There was quite a strong wind at the camp site in Bowman and that made it difficult to set up my tent. The gathered indigenous population had meanwhile arrived and wanted to give me a helping hand in exchange for some information about the bike. The sheriff also made a visit to check our group out. Besides that there are a lot of people making a round trip around our camp ground (of course by car) to check out what was going on. But getting out and having a talk… no way. Except when we started to wave to people. One couple came back a few minutes later with a bowl of berries. After that another man brought a very big box of cherries (from his own supply which he normally sells). One of the showers is not great. There is a pipe coming from the ceiling and at the end of it there is the part which normally fits on a urinal and a string. There only comes out like a tiny bit of water and you have to pull the string every minute or so.
We also had a question from one of my readers. Ben Brown wanted to know how many Americans are doing the complete tour. Tonight during the Riders Meeting I did a quick count and there are at least 10 people.
Tomorrow will be our longest day, distance wise. 266 kilometers, which are mostly going downhill. We also cross Lake Oahe (part of the Missouri River) and we enter a new time zone, which means one hour less. Time to go to sleep. Fortunately there are no trains that roll by every half hour… at least we thought. Around 9 PM there was a big one rolling by and honking is horn. If it's once every so many hours I can live with that.