Submitted by XL-Network on Mon, 2011-08-22 04:17
Because I didn't have the chance to charge my stuff the battery of my phone died and I overslept and woke up at 5:50 AM. Reasonably on time. After 48.5 kilometers of cycling I had to make a stop and I noticed that my rear tire looked a bit soft. Turns out there was only 1 to 1.5 bar left. I pumped it up back to 5.5 bar and that did the trick.
After our lunch stop I continued without a shirt. You do want to get a little tan, right? I did apply plenty of sun screen (factor 30) because it was getting hot (before noon it was already 30 degrees). Later I checked the rear tire again and at 90 kilometers I noticed some air had escaped again. I put the bike on it's side and changed the inner tube. First I checked for sharp stuff in the outer tire but didn't find any.
I though the whole of America was paved with asphalt (except for the gravel roads), but today I found brick road. In the middle of the town Akron where we got onto the trail. It was quite a nice surface, about the same as the Sparta-Elroy trail a while ago. Not that long (only some 10 kilometers), but real pretty. I didn't have real physical problems, but today I got a shooting pain in my left upper leg. Later on it went away, but it shows that you body can only handle so much 'torture'.
When you bike a lot, you swat a lot. And when you sweat, your hands get slippery. If you are using grip shifters you're going to have problems shifting. That's why I used my shirt to create some extra grip. And it was necessary, because today we had two very steep and nasty climbs. I don't know the percentage, but it was enough for a pumping cadence of 25. Two people (Marcel and Martin) pushed so hard their chain broke. My speed was only around 3 to 4 km/h, but I managed to get to the top. There a group of four people were sitting on chairs by the side of the road cheering for us and handing out water. It's starting to look a lot like the Tour du France.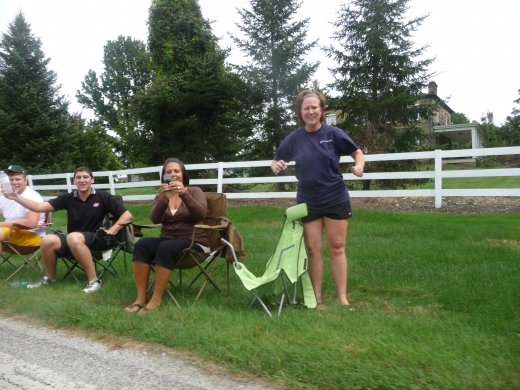 At the camp ground I took a nice swim in the lake. Real nice warm water to 'clean' yourself up and cool down. Of course take a shower afterwards. As all the booths were occupied I had to wait. That's when I noticed the little pig. A very sweet animal who could use a little kiss.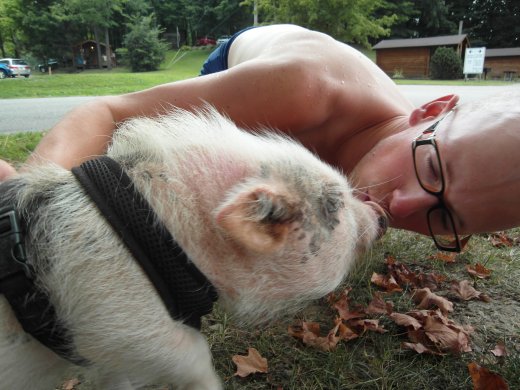 Now that I'm don writing my blog post I decided to check my rear tire again. And what do you know, soft again. After the riders meeting I took it off and gave it a good inspection (with the help of Marcel). Turns out there was a very small piece of metal sticking out into the inside. With the help of Daniel's Leaterman I removed it, patched the inner tube and put the whole thing back together.