Submitted by XL-Network on Wed, 2011-08-03 06:31
Today was a rest day so that meant sleeping in. Well, if you are used to getting up around 5 AM every morning you wake up at that time even when you get to sleep in, and so did I. Luckily I could get back to sleep. Breakfast was made by Winda (stir fried eggs). And I did some writing / responding on my blog. Then it was time for a massage. The students from the massage school came by to give us a massage for free. The ladies knew what they were doing. The pinched, squeezed and massaged everything back in place. Yesterday I could only feel the muscles in my calves, but during the massage I could feel my upper legs.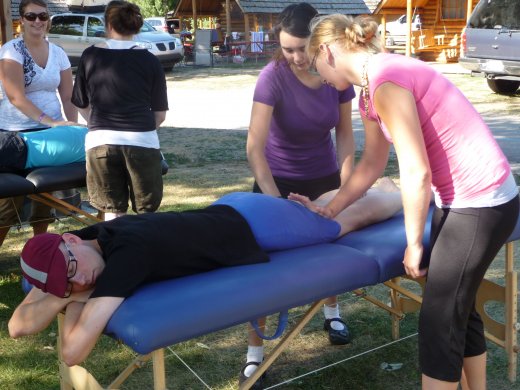 After that I washed my clothes and my bike, because they got dirty after five days of cycling. And the bike needed a wash before our meeting with our fellow bikers from here. But first I had to do some shopping. I needed new utensils because my old (apparently unbreakable) spork broke. Besides that I got some energy bards, gels, beef jerky and some other things. A quick stop at Taco Bell to fill our stomach and then back to the camp ground.
At the end of the afternoon we went in a big group to Bonner Park. But first a quick stop at the supermarket to bring something yummy. It was 'bring your own' afternoon where everybody brings something to share. It was a nice afternoon where we got to talk and eat with the locals and let them take a ride in our bikes.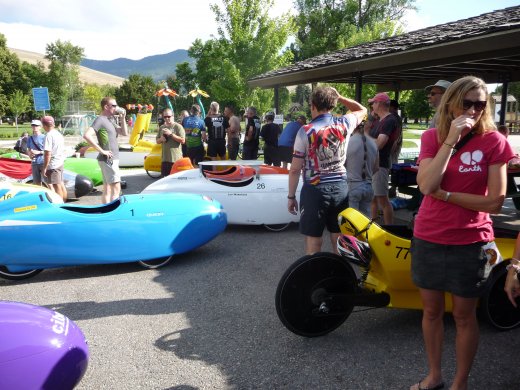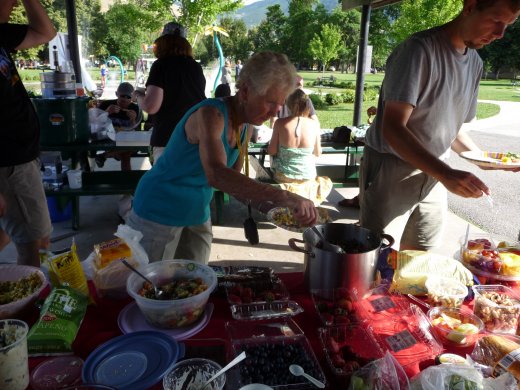 When we returned we had another riders meeting where the route for the next day was discussed. But first there was another announcement from Josef. He apparently had a illegal occupant in his Quest. A mouse had made a little home in his bike from the bubble wrap among other things. The final announcement was that the route for tomorrow would be very though and long, but that Josef had talked to a local group of bikers about a alternative better and shorter route. The problem was that nobody has that new route in their GPS. After much debate someone came up with the brilliant idea to to place stakes in the ground where you have to make a turn. One strip means go left, two means go right. The support truck riding last will pick up all the stakes again.