Submitted by XL-Network on Mon, 2011-09-05 22:48
Yesterday was a relaxing day for me. Should be after the long to the day before. Sleeping in a bit, updating my blog and reading up on some ROAM posts and videos. Around dinner time I went three blocks up the road to Mama Pizzeria. I ordered the small one of 16 inch, but that turns out to be something like 40 centimeters, it's huge! Fortunately there were enough hostel guests who wanted to help me eat the thing.
Because I've not done anything that day, like visiting the city, I thought it would be a good idea to go to the pub crawl. Now, I'm not much of a drinker, but a few should be no problem. We were scheduled to leave at 8:30 PM and I planned to be back in bed around 1 or 2 AM. But things turned out to be different. Anyway, here's a nice photo from the last pub.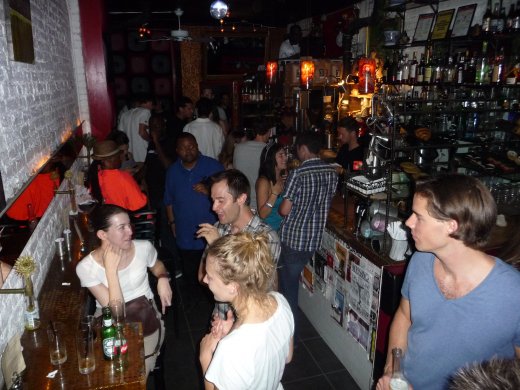 When we were waiting for Barbara (our pub crawl guide) we saw that everyone was running to the corner of the street. When I looked I could see a giant fireball of about 10 meters high. Not knowing what it was I ran over there and grabbed my photo camera from my bag. A car had been driving at high speed across a crossing and hit another car and ended up at the curb (just beside a bus stop). The car then caught on fire. Luckily the driver managed to get out and ran (I guess he was affright for the consequences). What exactly happened I don't know. The website DNAinfo.com reports that there are three vehicles involved in the crash and one of them managed to plough itself under another car.
It was a weird beginning of the night, but from that point on everything only kept getting better. We went to three pubs in total and at the last one I started to talk to someone making it 4 AM when I finally went to bed. Somewhat later then the planned 1 or 2 AM. I didn't get much sleep either, because at 6 AM I was already awake and couldn't get to sleep either.
At 10 AM the Ed's Brooklyn Tour started. Ed, just like Dave and Jerry, was a old guy. Only thing is that I didn't find him that good as a guide. First of all I saw a number of things that I've seen two days before (not that he can do anything about that) and I also got less information than the other two guides were providing. Also the tour wasn't the normal five hours but more like three or four. We did however go to the West Indian American Day Parade & Carnival. Very nice and good food.