Submitted by XL-Network on Wed, 2012-03-14 21:27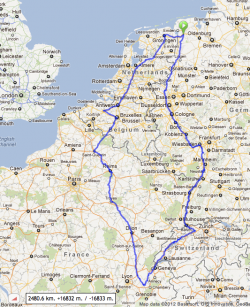 Last year during the summer I cycled from the west to the east coast of America, a tour called Roll over America. Back then people started talking a 'repeat' on this side of the ocean. The last couple of months people worked hard on creating a website, a route, finding riders et cetera. The website of Euro Tour 2013, the name of the project, is taking shape and currently almost 60 riders from different countries signed up. The Dutch are, as always, well represented (currently 13 riders). There are even a couple of old ROAM-riders present (currently about 10).
The tour will take place in July / August 2013 and it's about 2500 kilometers long, will take about three weeks and will pass though The Netherlands, Belgium, France, Swiss and Germany. Six days of biking and one day rest. And with 100 to 150 kilometer days this will be a 'holiday ride' for me.
Do you think it's fun to come along? All you need is a velomobile, a bit of time and the fitness to ride around 150 kilometer a day. There is enough time to train (and perhaps buy a velomobile) and ask for some time of from work or study. Interested? Then sign-up!