Submitted by XL-Network on Thu, 2013-01-31 19:32
Yesterday Ocho had another flat tire. I'm getting a bit fed up with it lately. Fortunately the cause was quickly identified. The side wall of the outer tire, a Schwalbe Durano, was damaged.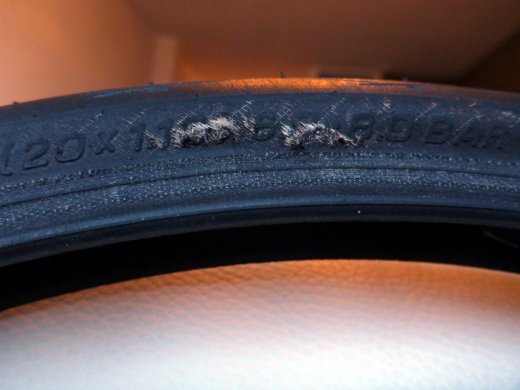 Last week on Monday I had a close encounter with a curb edge. I suspected that the outer tire might have been damaged then. That's what's probably caused the puncture in the inner tire. Yesterday's puncture almost looked the same and was almost in the same spot. That can't be a coincidence. Because I couldn't fix the problem, a hole in the sidewall of the outer tire, right away I exchanged the outer tire for my Durano folding tire. Because the old tire is otherwise okay (it has only done about 2000 kilometers) I'm reluctant to throw it away. That's why I taped in three pieces of duct tape. This makes it impossible for the inner tire to get thought the outer tire. The two inner tires which had the puncture showed signs that they were 'pushed' outwards through the hole because of the high pressure. Tomorrow night I will replace the outer tire with original one. I'm curious to see if it works.