Submitted by XL-Network on Sun, 2013-01-27 00:26
The thing is in my closet for several years. A long time ago I went to a nice ski resort in Austria, but I never needed it. Until I realized that it could come in handy to wear snow goggles whilst cycling in these cold circumstances. So that's what I did this morning. And I have to say, it's a bit getting used to, but I love it. The view is good, nice warm and dry and no trouble with snow. I should have done this a long time ago. The only downside I can think of is that I have the feeling that my normal glasses are sliding down my nose. This is because those glasses are a bit too wide for the snow goggles and it pinches a bit. But other then that it's super!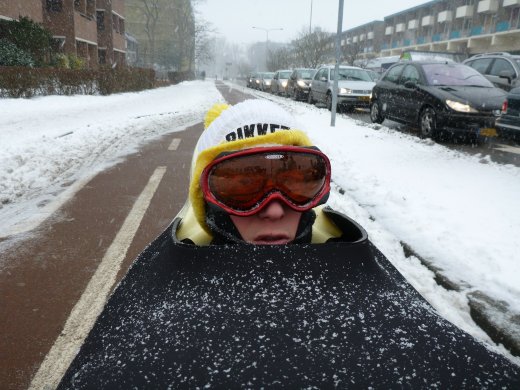 This morning I had to go to the dataceter in Groningen with a coworker to put some extra memory into four of our servers. A nice opportunity to try out the snow goggles. After the four hours of work I went to our rowing club to do some erg'ing. On the way over there some snow came down which gave me the opportunity to test those circumstances. I love it!
The work in the datacenter didn't go as planned. One of the four servers wouldn't boot up, grrr. But fortunately the whole platform is setup redundant so we can look at it this Monday in all peace and quiet. My coworker took a picture with his iPhone while I was putting the memory in the server and emailed it to me. The subject of that email read: RAMbo. The nerds among us will get it...