Submitted by XL-Network on Sun, 2013-01-13 19:06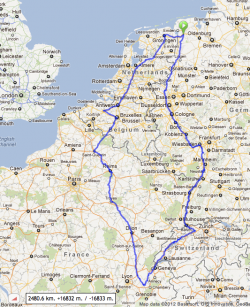 People who read other recumbent blogs or read Ligfiets.net already knew. The tour which I signed up for last year is canceled. This mainly has something to do with the routes being incomplete for certain countries, reservations for camp sites, transport of gear, finance and the 'general coordination' of the entire project. Certain descisions should have been made months ago.
But not to worry. This year I'll do a little tour of my own. Just like every other year I'm going to Wuppertal (Germany) for a week Bible study. The idea is that for the first couple of weeks (of the weeks after Wuppertal) I'll be touring around Europe in my bike, then go to Wuppertal and back home. I'll talk to my employee about getting some time of this week. And if you happen to know some nice locations I should visit or things I should see, leave me a comment below in this blog post.