Submitted by XL-Network on Fri, 2011-02-18 15:34
The plan was to create a home server that also acts as a media center. On the attic I had a old PC laying around which I first used to install Ubuntu Server to experiment with. I quickly threw away this idea because the computer was pulling about 180 watt in the idle mode. It would cost me around € 350 for power each year. For that kind money I could (almost) buy a new, more power efficient, computer. And that's exactly what I did. Of course this Apple-fan chose a Apple Mac mini. A small box of about 20 x 20 centimeter which contains a 2,4 GHz processor, 2 GB memory, 320 GB hard disk and a HDMI connection. And the best part of it all is that it uses less then 10 watt when it's in idle mode. That's around € 20,- per year on power.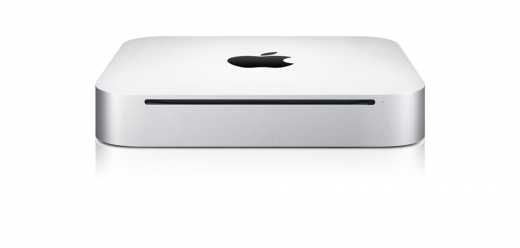 Setting up was a piece of cake. Connect the power cable, insert the HDMI cable with the AV receiver and you're done. Seeing that it doesn't come with a keyboard and mouse I also bought a Logitech diNovo Mini. It's a small wireless bluetooth keyboard with built-in mini-trackpad to operate the mouse. All very easy to setup. Within 10 minutes I was done.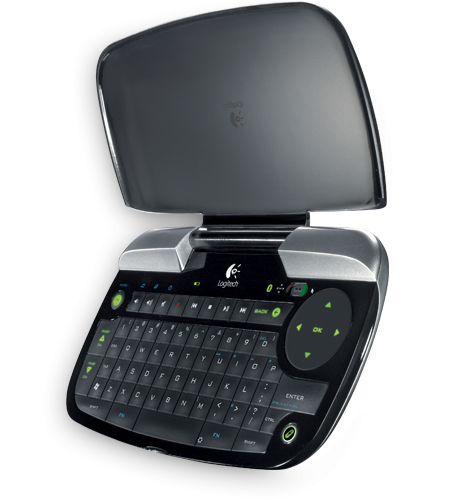 Software
You don't have a thing if you only have bare hardware so there had to be some software to finish the job. As a media center software I chose Plex. This application indexes your iTunes and iPhoto library and manually chosen folders where you have stored films, musica and images. Then it shows it all in a nice overview on my TV. All your media directly accessable from the couch.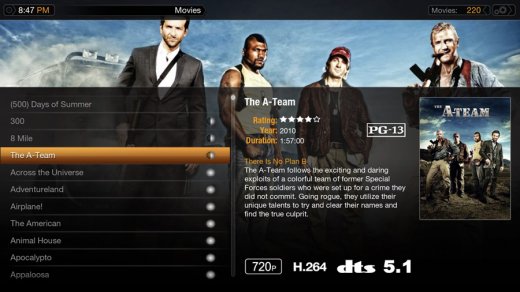 Plex also has the ability to install plug-ins. Doing so will further enhance the abilities of the application. There are, for instance, plug-ins to play YouTube movies, Apple Trailers or to use the Dutch Uitzending Gemist (watch a missed TV-show from the internet). There's a whole bunch of them, to big a list to mention here. To download TV shows and movies I use SABnzbd+ to process NZB-fiels and download the files from Usenet. The program automatically downloads (after adding the NZB-file) the necessary files, checks/repairs them and extracts them in the correct directory.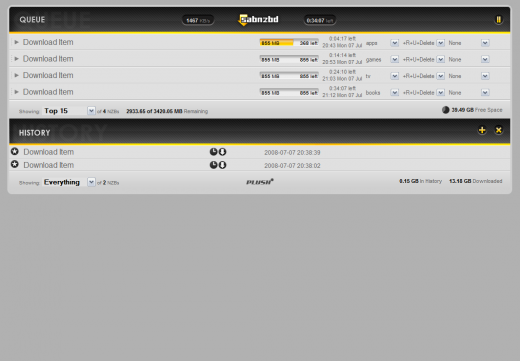 For access to Usenet you also need a usenet provider. Some ISP's have that service included in the subscription, but my provider doesn't. There are also free usenet providers, but they are often slow, incomplete and retention of the downloaded files is also very short. You really need a payed usenet provider. For downloading TV shows I use Sick Beard. In this program you can set-up your favorite TV shows and it goes looking for the latest episodes. If they are found it sends the NZB-file to SABnzbd+ which in turn downloads the episode and returns it to Sick Beard for further processing. Sick Beard then renames it to a clean name, adds metadata (such as a short description) and after that it's available in Plex (even before the show is aired in The Netherlands).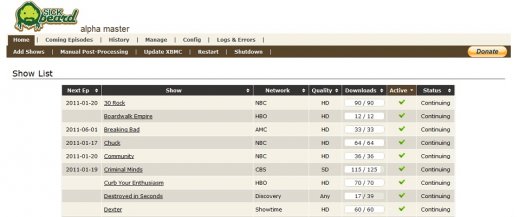 To download movies I use a different program called CouchPotato. This works about the same as Sick Beard, except for the fact that it downloads movies instead of TV shows. Another difference is that it can take a while before the movie is offered on Usenet. That's why you can make a list of wanted movies. Each 24 hours the application checks if these movies are online and passes it to SABnzbd+ if it findes them.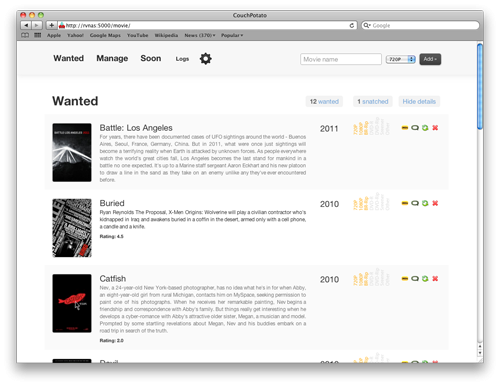 To manage the TV shows, movies and downloads there are also Plex plug-ins for these 3 programs, so you can add new TV shows and movies (watch trailers too) from the comfort of your couch. Another plug-in I want to try is Game Launcher. Using this you can play thousands of old arced games lilke Boulder Dash, Street Fighter and Bomberman. Again, from the comfort of you the couch or chair.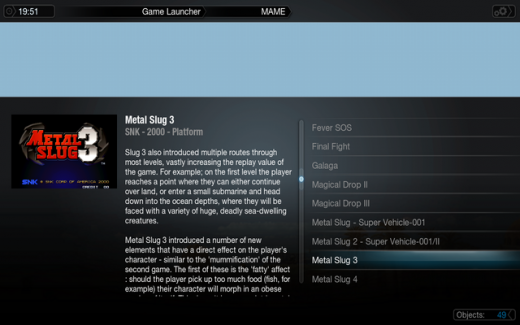 What does it all cost?
The only cost you have are the Mac mini, the diNovo Mini and a usenet subscription. The hardware is € 699 and € 99 and the usenet subscription is about € 5 to € 10 per month (I haven't decided which one I'll use). Also there are some costs for the power, which will not be that much I suspect.
What's next?
To further expand the home server part I'd like to install a VPN-server so I can access my home network from my work, my parents house or whatever. Also I'd like to run a telephone system using Asterisk. Incoming calls can be routed to my mobile phone. Or I could use it if I'm in another country and call for cheap to my home country. Also I don't want to connect my Mac mini and my MacBook Pro though the wireless network, but connect them using a 1 Gb ethernet connection. That way I have a much higher connection speed between both machines. My Drobo with 2,7 TB disk space will be connected to the Mac mini and it will be mounted as a shared drive on my MacBook Pro, which it was previously connected to. If I'm correct everything should work exactly as before the move. The advantage is that the Drobo can hold much more data (2,7 TB vs. 320 GB, a difference of factor 7) and all the data is always available. A downside could be the power consumption (it's always on) and the transfer speed between the MacBook Pro and the Drobo probably goes down because it isn't directly connected through FireWire 800 but through ethernet. I'm curious if it effects capturing HDV video, just have to wait and see. The extra disk space that comes available for the Mac mini I also plan to use for webcam security. Maybe place a webcam in the corer of the room and record the image to my Drobo when motion is detected. Now it's only a few ideas, but that won't be long I guess. If you have other ideas, please leave them in the comments below.