Submitted by XL-Network on Tue, 2011-03-22 00:38
Weeks of training and preparation, but last weekend we rowed the Head of the River Amstel. The adventure started on Saturday morning. I had to pick up a team mate from Groningen at 8 AM. On the A1 the ring of Amsterdam there were planned road works so we left a bit early. Afterward it wasn't that bad and a parking space was quickly found. So about 1,5 hours early we reached or destination, the rowing club Poseidon. We enjoyed a cup of the and our stay outside in the sun. At around 12 AM the rest of our team arrived and we unloaded our boat, bolted it together and put it on the water to headed out on the water to take a look at the track.
The Saturday was for checking if the boat was running smoothly and everything was tuned. And also to practice the 'whore corner' ("Hoerenbocht" in Dutch). It got it's nick name because it is almost at a 90 degrees angle and sometimes causes some trouble, as you can see in the movie below. Our steer Shanna is very experienced and kept a perfect line.
After a 1,5 hour outing we headed back to the boat house for a nice shower. I quickly did some shopping (I'd forgotten to bring enough food) and then to the hotel where we regrouped for a walk down town. First to Kaap Kot for a drink and a chat. Then down town for diner at Bazar. Very nice place and good food, but we couldn't stay to long because we had a race to row the next day. Everyone had booked a room at the hotel around the corner, but I had made reservations with a team mate for a hotel some 8 kilometer down the road (he had a gift ticket). Fortunately I had a borrowed folding bike so we could do the distance by bike. With on hand on the bike and in the other my iPhone (for navigation) we reached our destination in a straight line. Because of the low seat, the heavy bag on my back and only one gear my back was in pain. Sure hope that's gone by tomorrow.
Woke op a few times tonight but had a good night after all. After getting out of bed I still wasn't awake for 100%, but a bike ride to Poseidon will do the trick. Everyone was up real early and after getting in the proper outfit the boat was placed in the water once again. Easy rowing to the start with a sprint sometimes to get the blood pumping. Once at the start it was a matter of long waits and maneuvering. Fortunately, just as the day before, the sun was shining and there was little wind.
Our number (229) was called and we could get on our way. Slowly we picked up speed and we started at full speed. The first couple of minutes it was full power and it felt good. If we could only maintain this to the finish. It didn't take long to overtake the first boat. A couple of more power strokes and the second boat was behind us. It went very well! The stroke rate was around 31 spm and during our power strokes it went to 33. A high rate, but we could do it. Boat number three was in sight and we came closer and closer. The Big Corner was ahead. Yesterday we practiced and today had to go perfect. Which it did. Starboard was rowing light and port was doing extra strong. Shanna steered super tight and we made it. Two more strokes and, bam, full power. On our way to the finish. From the side you could hear people screaming and shouting. Come on Hunze! Eyes front, went through my mind. Concentration. Don't look. The last stretch I gave it all but we didn't manage to take the third boat.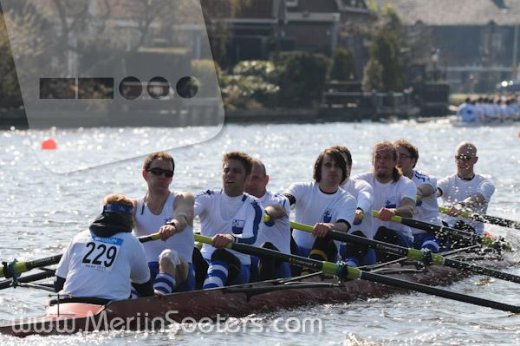 After finishing I recovered from this achievement and like a rower with a spasm I tried to row. Just give me one minute to recover. Turned around and headed back to get the boat out of the water. On the way back our coach (together with other spectators) cycled along and when we got back we heard the end result. We finished 10th out of a total of 29 teams (29:38.57). A very good performance, if I say so myself.
After the boat was divided in to half and placed back on the trailer it was time for the famous Skøll-burger. Last year I had the privilege to taste this divine burger and it was exactly as expected. The secret? A nice piece of meat, some cheese, pickles and the secret ingredient, bacon!
PS. As more pictures and movies arrive I will add them to this page.