Submitted by XL-Network on Tue, 2011-05-24 20:47
I'll start with the t-shirts... they have arrived. I've ordered some 26 t-shirts for the Dutch delegation of 9 people who are going to America to cycle 5000 kilometers. It all arrived in one big box. Below you can see what a big pile it is and how the front and back look. On the back you can see a image of the route we are taking and which cities we'll be visiting.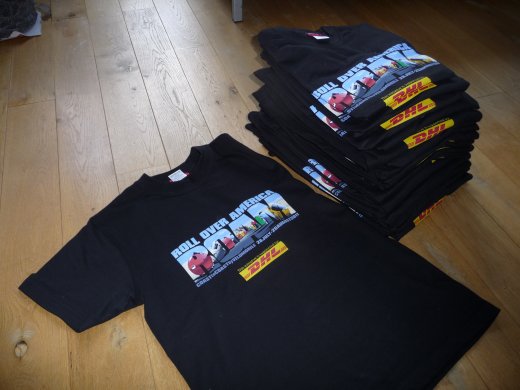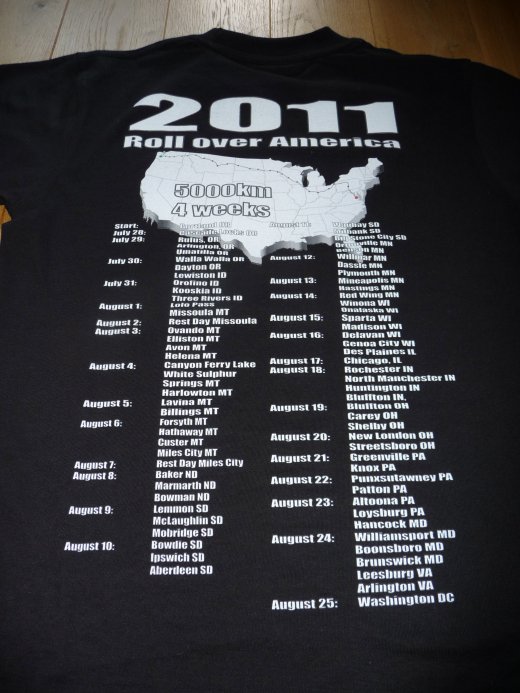 And now for the 'more' part. Last Saturday after rowing in the 2- I cycled to a team member to help him move. After that I cycled on to my youngest brother to celebrate his birthday. I planned to arrive there around 4 PM but because of the move I was running a bit late. A good reason to put the pedal to the metal. My average speed over 44 kilometers was 30,7 km/h, but my heart rate was way to high. A average of 160 beats per minute. I could tell that's not great, because I arrived empty and tired in Stadskanaal. Luckily the BBQ was ready and I could start eating right away.
On the way there, in Haren, I almost had a collision with another cyclist who would turn onto the cycle path without looking. His wife was cycling behind him with a small child on the steering wheel. I don't want to think about what could have happened if I was only 1 second faster and the husband had a child on his steering wheel.
Sunday I woke up very early in Stadskanaal, where I spent the night. We had agreed to meet in Schildwolde to cycle a bit with the Huneliggers. It was Marjon v/d K. her idea to meet there (something about close to home, or so). It was quite rainy that morning, but luckily I was in my velomobile which kept me 90% dry. After about 15 minutes of waiting we took of, just the two of us. We were headed for Krewerd where a colleague was living and I wanted to see what it was like. So I gave him a ring to check if he was home and soon we were having tea. After finishing the round I continued to Groningen where I'd get into a different rowing boat as the day before.
Another 186 kilometer. It all went well and there were no big problems, except tingling toes. That's why I want to lower my plates back to the old position.