Submitted by XL-Network on Sat, 2011-08-27 21:24
The landscape was getting more hilly the last couple of days. Today and yesterday there was some more climbing to do. Just after we left I heard a ticking sound ever six revolutions. I stopped and inspected the chain. Yup, a chain link was loose on one side. My repair set is probably still back in Portland, but fortunately Harry was behind me and had a chain tool. I removed to links and went on.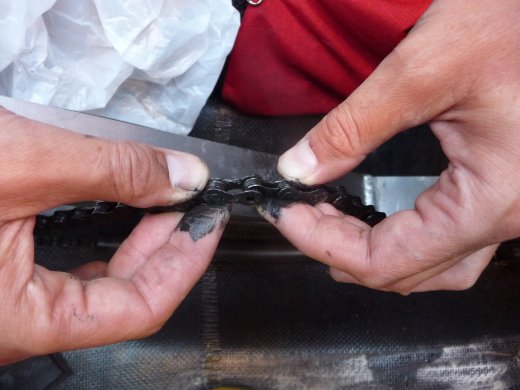 The day started with a steep climb. On the top there was a joint called Burger Hut, but officially they were still closed. They made exception for us and we even got free coffee and tea. What a service!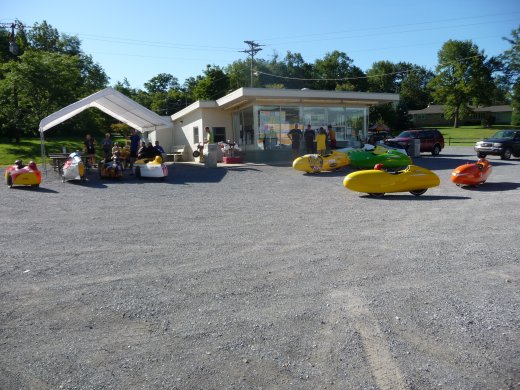 At lunch break I noticed that my right front tire was feeling a bit soft. When pumping it back to 5.5 bar I saw that it only had less then 4 bar in it. Some 12.5 kilometers before our destination I rechecked it and it was soft again. First pumped it up again and I patched the inner tire at the camp ground. There was a little hole, but I could not find a thing in the outer tire. Let's hope it stay's this way.
The route of today was ten times better compared to yesterday. Okay, there were some climbs, but what do you except in the mountains. It was nice and windy through the mountains and valleys. Often car free with trees next to the road providing shadow. Yesterday and today there was a guy from RecumbentTV and he made a lot of recordings. I bet there will be a nice little movie in there somewhere. When it's ready I don't know, it will probably take a couple of days / weeks.
Just before I arrived at the Happy Hills Campground (yes, with very happy hills indeed) I was going downhill around 70+ km/h when two big black flies decided to splatter themselves on my fore head. Here is the result.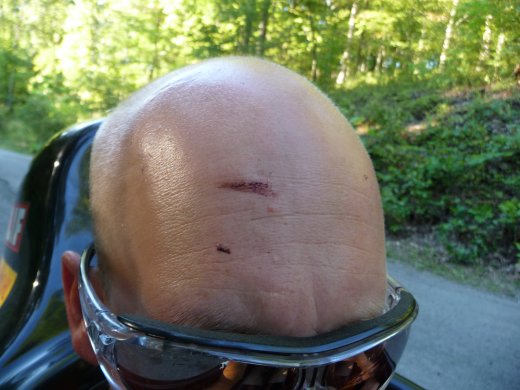 We conclude with a number of things I noticed in this country. First there are the many Garage / Yard Sales. Apparently most people what to get rid of their stuff. Then there are the number of Sweet Corn signs. Mostly in the middle of the country next to the road. Lastly there are many churches. Every village or borough has at least two or three. And with increasingly more creative names. They also often have a sign in front with a text of the week. The one I remembered was: "Smile!".