Submitted by XL-Network on Sat, 2011-08-27 21:56
This morning when I woke up there was a cake on the pick nick table and my bike was decorated with balloons. Today, the day we would arrive in Washington, happens to be my birthday. Last night we also received free beer from Steve, a velomobile dealer. Steve also brought a Go-One Evolution and would ride with us the final day. After some 10 kilometers we had a short break and his tires looked very soft. Turns out he never had ridden the bike and the tires had only 2 bar in them. Also the yellow sticker was still on the SPD pedals. He didn't like cleats and there wasn't even a cushion on the seat. After some 80 kilometers he had enough and SAG had loaded his VM on the roof. The final stretch from Vienna he did ride with us but couldn't keep up.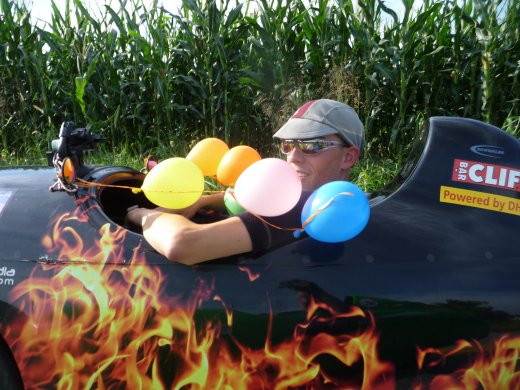 The hills from yesterday were completely unnecessary because there was a nice and flat trail that went into Hancock. That's what we did this morning and the first 25 kilometers were magnificent. Nice smooth asphalt, no climbing and beautiful surroundings without cars. The balloons on my bike made me, according to Harry, slower. He ordered me to get rid of them after 66 kilometers. A few kilometers before lunch break Marcel stood by the side of the road with his bike on the side. After Harry and I made ourselves helpful by getting our hands dirty and found out that the rear derrailleur was bent. Unfortunately he had to go with SAG the last 70 kilometers.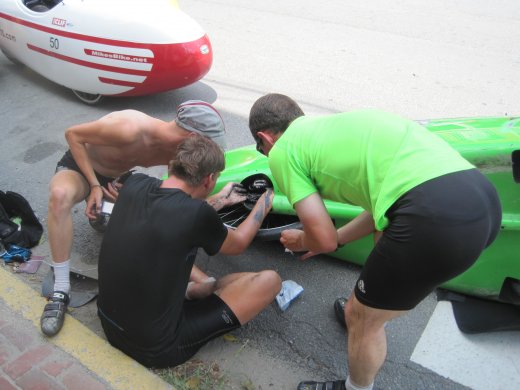 After the lunch break we took the Washington & Old Dominion trail. 66 kilometers straight to our final destination. Around 15 kilometers before the hotel we had a final stop in Vienna to meet local riders who would accompany us to the Georgetown University Hotel. When we were riding in the streets of Washington we all felt like movie stars. People everywhere who were taking photos while we caused chaos in traffic. On arrival we parked our bikes in the parking garage. It's a tight fit but all the bikes fit in four parking spaces. The hotel looks nice, but the very service is bad compared to Portland. All business and very strict, they weren't very cooperative. WiFi costs almost 10 dollars a day, so that's why the messages are arriving a bit late.

Source: Harry Lieben
PS. If anyone knows who the two ladies are that were cycling with us, let me know. One of them took my bike for a spin and I would like to have the photo.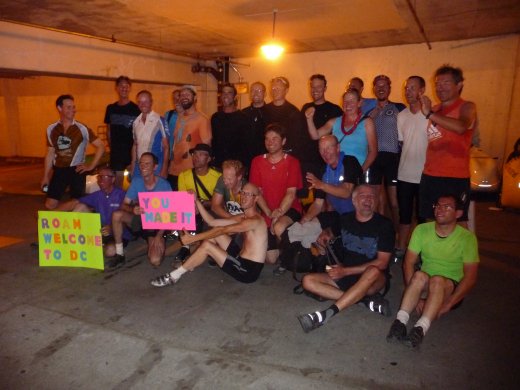 Also Frans and myself arranged a lot of cupcakes from Georgetown Cupcake. Just like myself it was also Frans' birthday. A friend of Frans told us these were the best cupcakes in whole DC. And it's all try, they were very good. Problem was we ordered 60 of them and they had only delivered 16. One call from Frans and the brought the rest (together with a dozen extra to was the pain). Everyone received one when entering the hotel and they were very good (had I mentioned that yet?).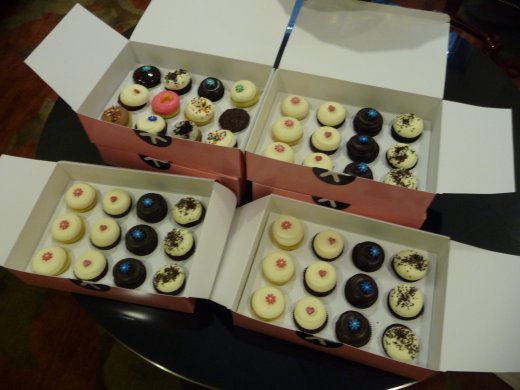 Then I wanted to check in to the hotel but my credit card wasn't accepted. In the mean time I could store my stuff in Martin and Wesley's room and take a shower there. Later Frans paid for our room (John Abbey and myself) and we could get to our own room. We left with a group to a restaurant some 15 to 20 minutes away by foot to have diner with Machiel's American Ciber colleagues. The pasta went in after some 180 kilometers of cycling. John (my room mate) had to sleep in the truck because they were giving him a hard time parking the truck. He decided to stay inside so they would not tow it away.