Submitted by XL-Network on Thu, 2011-10-27 15:07
For Roll over America I found a number of sponsors who wanted to sponsor me for a number cents per kilometer. Not for myself, but for Villa Joep who goes to battle against Neuroblastoma cancer. Eventually the fantastic amount of 1700 euro's was given. Some time ago I drank some coffee / tea with Jeanine, Regional manager of Villa Joep. After the drink we took a number of pictures for the website to be posted as a news article. Everybody has transferred the money except for three people, but that will turn out fine. I want to thank everyone who sponsored me (and in doing so Villa Joep) very much. Without you it would not have been such a great success.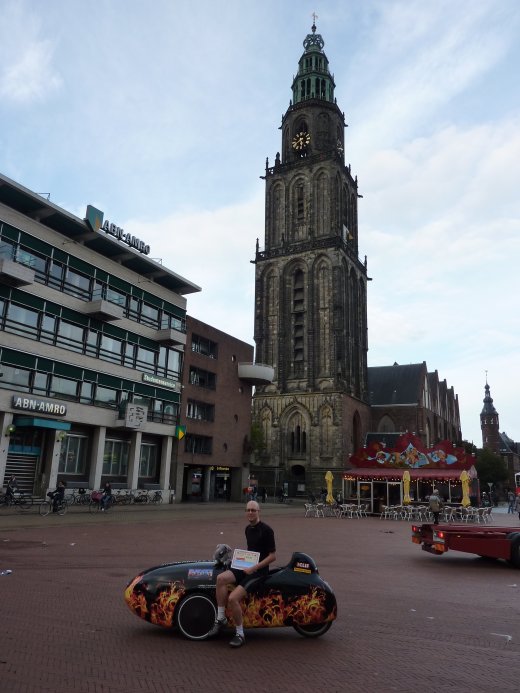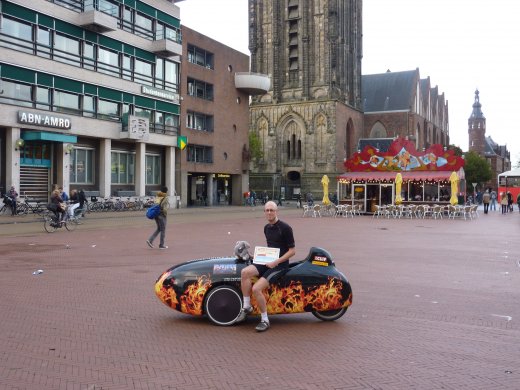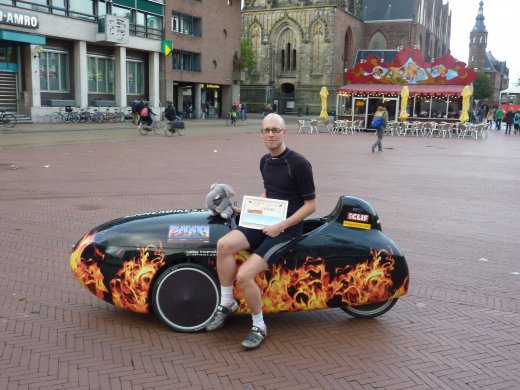 Some statistics and other things to know.
Total amount of sponsors: 54 persons
Average amount: 31.48 euro
Smallest amount: 5 euro
Largest amount: 103.34 euro
Weirdest sponsoring: 0.404 cent/km + 4.04 euro fixed amount (to be clear, this is a colleague and 404 is a statuscode for a webserver to say: page not found).
Funniest sponsoring: during the ride there were two Americans who gave me dollars because they had heard about me cycling against Neuroblastoma cancer.
Some comments from my sponsors (translated from Dutch).
Patrick: "I made the amount per kilometer just a bit higher, so you get the 10 euro's even if you are short on kilometers. A lot of success Wilfred!"

Margret: "Super good action! A lot of success and I'll follow you (on your website that is...)"

Peter: "Bike well and take good care of yourself and Velox Incendia"

Joris: "Good job!"

Judith: "Wilfred and all the other velomobile riders, a lot of success with your journey though America. I hope that it will be a fantastic experience for you all next to the success for Villa Joep. Go get 'm. Greetings, Judith"

Rolf: "Success,I assume you will make the 5000 kilometers. I put the banner on my site. It's still partly under constructions, but all the little things help....."

Pieter Jan: "I wish you a very nice adventure!"

Pierre: "A lot of success in the US! And do the 5000 kilometers. I'll place a banner on my weblog and will add a separate blog post when it's posted. Greetings, Pierre"

Machiel: "Great action Wilfred!!"

Helma: "Have a lot of fun!"

Natascha: "A lot of success!"

Hanneke: "Have a loooooooot of successsssssss and of course a lot of fun :)"

Gert: "Wilfred, a lot of success!! Gert"

Klaas: "Wilfred, a lot of success and fun during your ride"

Ronald: "Super action and a lot of success."

Astrid en Peter: "A lot of success biking, especially the mountains! Be ware of the American cowboys! Greetings Astrid and Peter"

Jolanda: "He Wilfred, Great that you linked a sponsor action to your bike ride. A lot of success. I'm curious about the photos of the trip. Greetings Jolanda."

Serge: "A lot of success!!! Greetings, Serge"

Caroline: "Hey Wilfred, A lot of success during the bike ride and do complete the 5000 kilometers! (I'm sponsoring for 20 euro's) Greetings Caroline"

Ido en Wietske: "Go get 'm Wilfred, a lot of success!!"