Submitted by XL-Network on Fri, 2012-07-13 18:20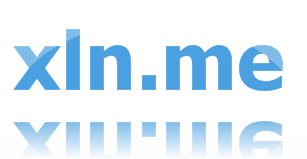 You've heard of them. URL shorteners like bit.ly, tinyurl.com, goo.gl and so on. Starting last night there is a new one with the appropriate name: xln.me. This stands for 'XL-Network me', or 'make me XL-Network'. This service isn't publicly availably because I use it for my own sites. If you read my blog posts using Twitter or Facebook you will now see the links like http://xln.me/[code].
How does this work?
First you will need a domain name, preferably a short one. Seeing that all two lettered domain names, like xl.me, xl.us and xl.net, are long been taken I had to search for a alternative. I also thought about xln.et (.et is for Ethiopia), but that country doesn't allow a second-level TLD (you can't register something directly in front of the .et part). Eventually it became xln.me. The costs are € 19,50 per year (excluding tax) and there is a minimum contract of two years. That isn't to bad in comparison to other exotic domain names. My domains are all registered at TransIP. The are quite cheap. Often the even have a sale where you can buy a .nl domain for € 1,99.
Secondly you need a piece of software that shortens those long URL's. First I thought of using the Custom Domain service of bitly, but I'd rather want to keep everything under my own control. After a relatively short search I ended up with YOURLS. YOURS stands for Your Own URL Shortener and it enables you to create your own short URL's, to manage them and to see statistics. There is even a bookmarklet that you can drag into your favorites of your browser. If you want to shorten the URL of a certain page, just click the button and you're done.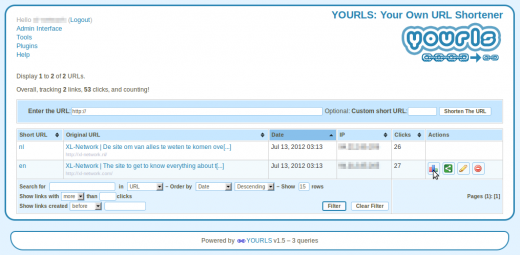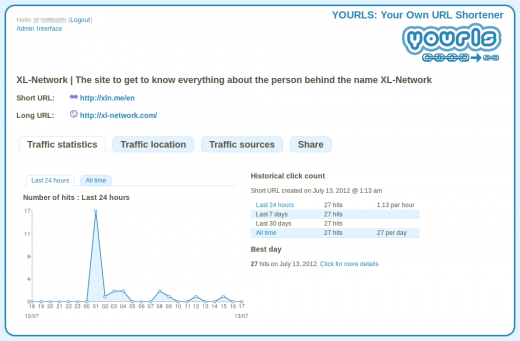 In total it didn't take long to set it up. Registering the domain was five minutes. Setting up the DNS and webserver another five minutes. Creating the database and installing the code again five minutes. Then we test. From start to finish it took me less then half an hour to get it working. The first two links are already created. xln.me/en and xln.me/nl. The rest will be automatically created by Twitterfeed once there is a new blog post.
Twitterfeed
Twitterfeed is a service which check every x minutes (mine is set to half an hour) if there is a new blog post. It uses the RSS-feed of my site to do so. If there is a new message the URL is shortened and a message is posted on Twitter. But how do you get Twitterfeed to use your own URL shortener? Simple. YOURLS has a API which can Twitterfeed can use. It's all explained in a blog post by YOURLS.