Submitted by XL-Network on Wed, 2012-08-29 18:38
Every now and then I take a look at Google Analytics to see what's happening on my site. Yesterday evening I did the same and I was in for a big surprise. There was a enormous spike in the number of visits. Normally I have around 40 to 120 visits per day (depending if I added something new). Yesterday I had 1,166 visits, 10 to 30 times more then normal. After a little detective work it turns out that the blog 90 Percent of Everything created a blog post which links to my article about the Home server / media center. I read their post with great interest and saw they found another extension, Headphones. I immediately installed it and tried it out. Here is a short introduction.

The program Headphones takes care of automatically downloading music albums. It works the same way Sick Beard does. With this program you can enter a TV show at it automatically downloads the latest episodes using Usenet. Headphones does the same, except with music.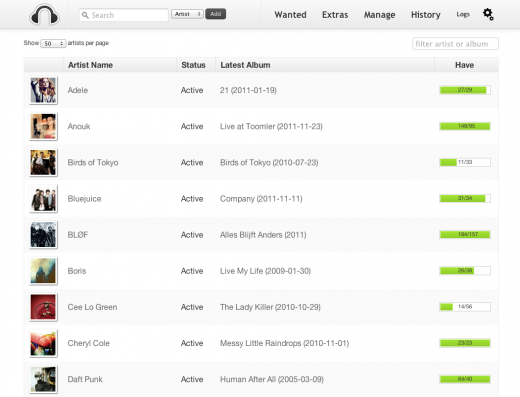 You can enter an artist and the albums will be automaticly added to the overview page. You can then select which album you would like. The program then uses NZBMatrix to check if it's available for download. If it is it hands it over to SABnzbd which downloads the files. Once downloaded Headphones takes over and moves the files into the right directory, adds metadata, album art, lyrics and all the unnecessary files will be deleted. After that you can check the overview and see the albums being downloaded. Now to find some nice albums to download.