Submitted by XL-Network on Fri, 2012-08-31 21:49
Early this month I received the message that my velomobile, which I've sold in July, was for sale again. Fortunately it now has a new owner. It moved from Germany to Belgium and now has Serge M. as it's new happy owner. Last Saturday the bike changed owner and this week Serge could take it for a longer ride. "A euphoric feeling", he writes. He also mentions that he now is about 10% faster then on his MTB, but he's still looking for the right recumbent legs and the most optimal route with less corners. In Belgium the apparently have mountains / hills, because his top speed is currently 68 km/h. "More to come!", he writes.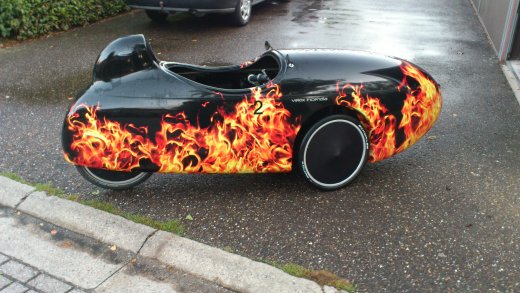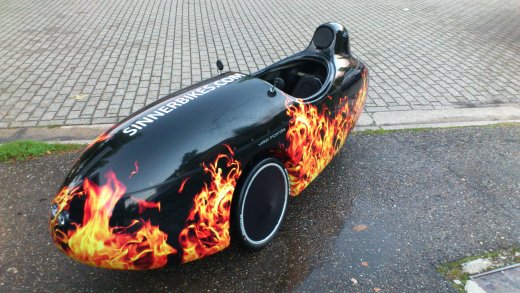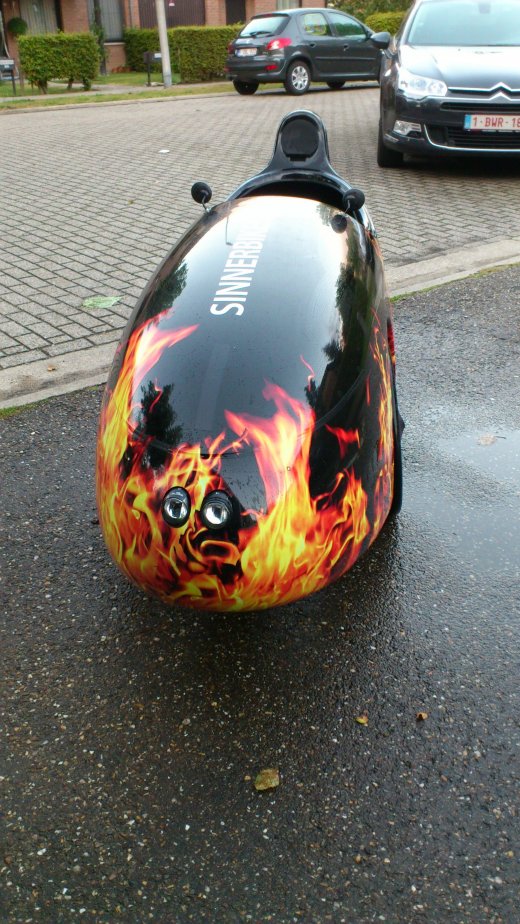 He removed a number of stickers, but the flames can stay obviously. Also the ROAM sticker had to go, despite the fact that it's a cool sticker. He didn't participate in the ride so he felt like he couldn't leave it on.
Who is Serge M.?
I'm 30 years old and in 2000 I started riding recumbents on a home made simi-racer. Afterwards I started developing the Cobrabikes Lowracer and I became European Champion in Telfs with that bike in 2004. In 2005 I became Belgium Champion and after that I took a few years sabbatical and spent some time to build Aerox Fiberbird. This helps me win the criterium at the World Championships in Tilburg, but afterwards I stopped building bikes because of the lack of time. With the Mango I see the ideal opportunity to make lots of recumbent kilometers without spending to much weekend days. I'm almost at fast at work as by car. I've always found the Mango one of the prettiest velomobiles around, so I'm very happy to make a extensive test ride.
I hope Serge has just as much fun with the bike as I had, but I think there will be no doubt about that.