Submitted by XL-Network on Wed, 2011-09-14 19:49
The last couple of days in New York City were very nice. I've met a lot of people and I've been on a pub-crawl or visited a bar with bluegrass music. I've had a delicious meal at a nice Mexican restaurant and Tom's Restaurant (where Jerry Seinfeld always sits), took a walk in the park and watched the sunset at the Hudson River. In short, I've had a very god time (especially the last couple of days). But all good things must end and have to get back home, sniff...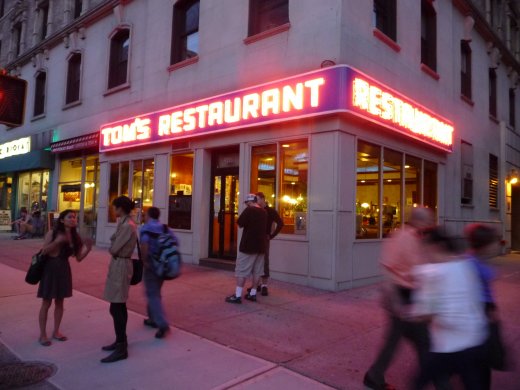 Saturday evening I packed almost all my bags and made a reservation for a bus to Washington, DC. On my way to New York City I took the train which was pretty expensive, 111 dollars. The bus is much cheaper, 24 dollars. If you want to travel cheap and relatively comfortable, think about the bus. They even had free WiFi which worked well for the most. That way I could still communicate with everybody in a way. Anyway... my alarm clock got off quite early on Sunday and I've checked out of the hostel around 7:00 AM, walked to the subway to get to Penn Station. I arrived there well on time (a hour 'early'), which gave me time to grab a snack at the place at the corner (Sbarro). They were still busy cleaning it, because the door was still locked. Fortunately the opened it on my request and I could have breakfast. After a while a dozen of firemen in their official outfits walked in. Today was exactly 10 years ofter 9/11 and there was something to do all around town. When I was in the bus I received a photo from someone nice I've met in New York. A whole lot of motorbikes parked just around the corner where she lives. It went on for a dozen blocks.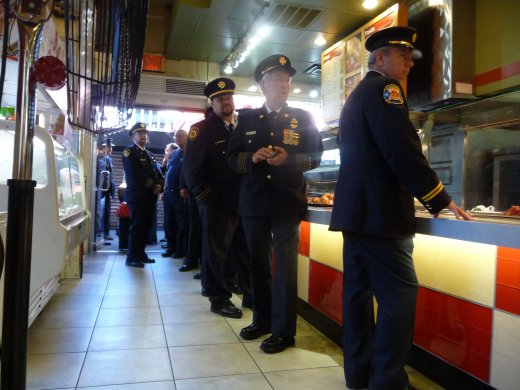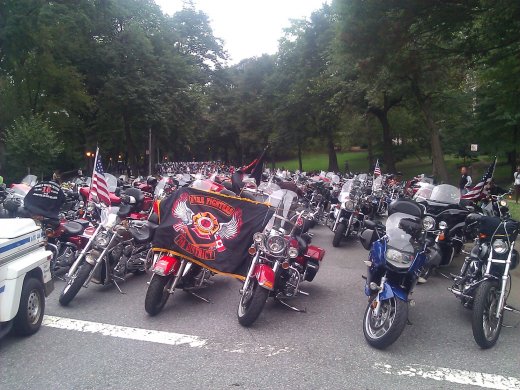 A hour later we could enter the bus and head for Washington, DC. Halfway there there was a break and I've bought a sandwich and some tea. Then back in the bus and our final stop, Union Station. There I walked to the metro station and took the metro to Rosslyn. The bus for Dullas International Airport had just left. Not a problem, because I was planning on buying some food. I had plenty of time to get to the airport. I also had to get enough money. When I left the hostel I had something like 11 dollars left. Enough for some food, a drink and a ticket for the bus. I was under the assumption that it would be 1.70 dollars (the same as the rest of the DC busses), but this wasn't a local but a express bus. That one cost 6 dollars. Oops, I didn't have enough money. So I went back to the store where I bought the food and tried to return the muesli bars to get a few dollars back. But the lady behind the register wanted to see my receipts (which I didn't have anymore). So, back to the ATM to get 20 dollars (the minimum amount). After that I asked if she had change for 20 dollars. No, I first had to buy something. So, I bought some Snickers and some gum. Then I had enough (well, to much actually) money. Back to the bus and wait for the next one. It should be there within the hour, but after a long time of waiting it didn't show up. Okay... it's getting a bit tight on my time schedule, but I'll just catch the next one. But after a hour of more waiting that one didn't' show op either and I started to get nervous. 10 to 15 minutes after the bus should have arrived I shared a taxi to the airport with three others. There also was a Dutchmen who was supposed to pick up people at the airport. On the way there we talked about my bike tour. He was very interested. The excess money I had earlier came in handy to pay for the taxi. After I payed 13 dollars to the Dutch guy (saves my time) I ant into the airport.
The entry of the airport was one big long glass tub where all the airlines were located in one big line. I searched for the KLM desk and... I was the only one in line. That helps a lot and I could make up for lost time. So, I handed of my passport and bag and left for the gate. First everything had to go to the scanner and other security measures and then we took a small cart through a tunnel to get to the gat and the airplane.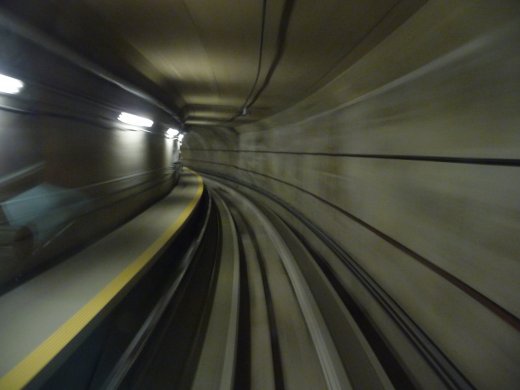 After a delay of around 20 minutes (extra traffic to New York) we finally took off. The takeoff of the plane went just like last time, with a lot of force. I still get a smile on my face from these kind of 'rides'. It was very nice to speak Dutch to people (the crew). The flight was good and after watching two movies (X-Men: First Class and Limitless) and a few TV series we passed the Dutch border. And because it was just starting to get morning we were treated to a very nice sunrise.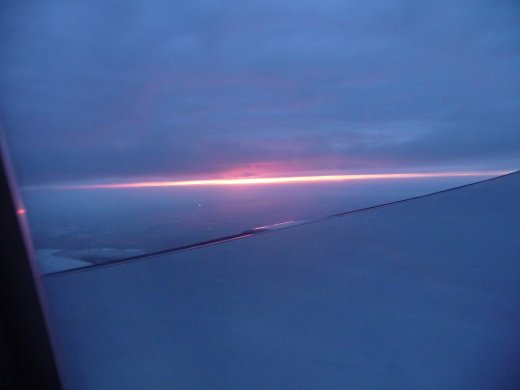 The landing went very smooth. I got off the plane, went though customs and started to look for my bags. For that I had to walk all the way across Schiphol, but finally I made it. But now what... the belt was empty. Oh no wait, there are the first suitcases arriving. After a while I saw min and after I put everything back to it's 'walking position' I went to the exit to catch the train home. When I entered the arrivals I saw a familiar face. My mother! En there, my father, my brother and his wife (with the little Joas in her arms). And what's this? A banner! How wonderful! In the back of my mind I thought they might be crazy enough to pick me up, but nah... they wouldn't do that without saying anything, right? They did! The were a bit worried though because of the updates is sent through Twitter about missing the bus.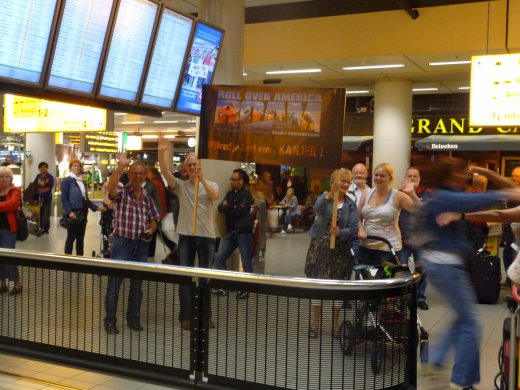 Now I'm back home and I've slept in my own bed. On my return I slept for four hours at home and went to bed at 4:00 AM (10 PM New York time). That night I've also spent three hours video chatting with New York using Google Chat. That way it felt like I was still there. That night I slept for 10 hours and I woke up around 2 PM in the afternoon. I put everything in the washer and cleaned up a bit. The next night I ant to bed a bit earlier (midnight) but still, I couldn't fall asleep until 4 AM. Got out of bed and did some activities for half a hour after giving it a second try. Eventually I fell asleep around 5:30 AM and 6 hours later I woke up. I have the feeling that tonight my jet lag will be gone and I can finally sleep normally. The adventure and my holiday is really over and I do miss it... I want to go back!