Submitted by XL-Network on Sun, 2011-11-06 12:42
After some five years it became time to replace / move the website of my Bible study group. This had to do with the fact that we 'only' got 3 GB of storage space at our old provider, Antagonist. Because we create a 40 MB audio recording every two weeks we reached a point where the supplied space doesn't allow any more recordings. Otherwise I like the old provider (my middle brother also hosts his website there).
Because I own my own VPS with 100 GB of storage I decided to move the website to this server. There was only one problem. The PHP version on the VPS was newer than the one on the old server. The website, which was running Drupal 5, couldn't function with that version. Upgrading to the newest version, Drupal 7, was the only option (or downgrade the PHP version, which I didn't want to do). And while I'm at it, I'd better create a whole new and fresh site. As you can see on the site the latest audio recording is a while ago. Soon I will add the remaining eight recordings. Plenty of studies to listen to (Dutch only).
Below you can see two images showing the old and the new website. I'm curious what you think of the result. Improvements and other pro's and con's can be left below this post in the comments. And if you want to take a look at the new site, go to bijbelstudiegroningen.nl.
Old website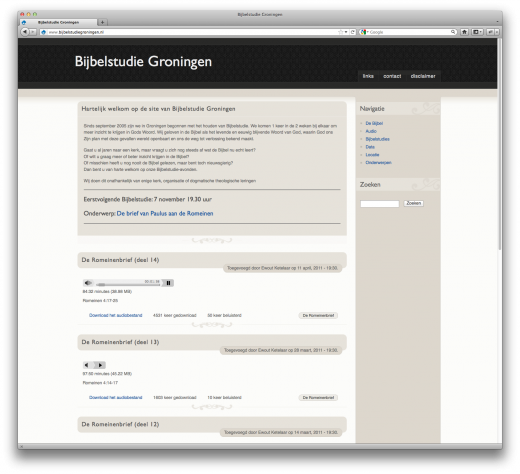 New website