Submitted by XL-Network on Tue, 2013-08-06 10:55
Woke up relaxed without having to worry about making breakfast and packing my tent. I left at 8 AM for Lingen some 55 kilometers away where I was supposed to meet up with the rest at the group at an agreed point. One hour before the agreed time I received a text message from Matthias if I could meet him at the nearby bakeshop. He had to get some things for his Flevobike. The road to Lingen was, for the Dutch part anyway, largely next to a beautiful small canal. In Germany I cycled next to the Bundesstraße (main road), which was also fine.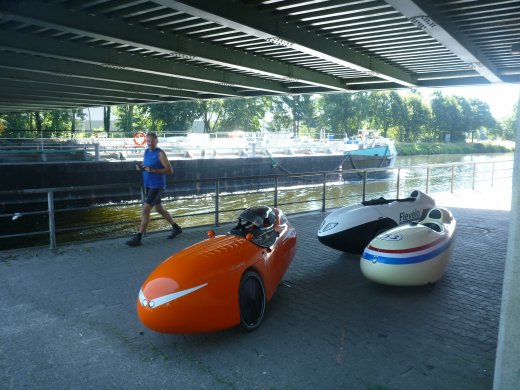 At 10:15 AM I was at the bikeshop and at 10:30 AM we were under the bridge at the agreed spot to wait for John. Later it turned out he left the campsite two hours earlier and of course he would be the first to arrive at the campground in Leer. While we were waiting for John I discovered that the coat hanger of my bike was also broken in a different spot. On top in the middle. Time for a replacement.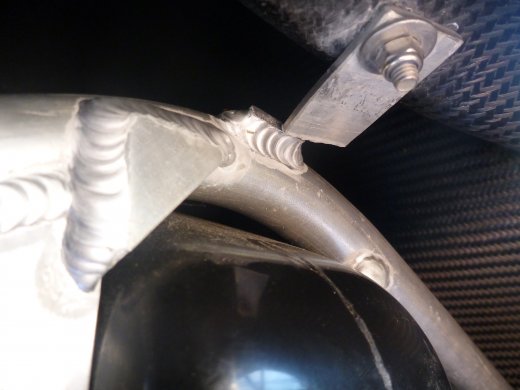 We largely followed the B70 (Bundesstraße) towards our final destination Leer. The cycle path next to the road was nice. We did however encounter a parked car with it's nose right on the path which caused us to swerve around it. The owners of the vehicle were busy taking care of the cross of a victim of the road. In doing so they almost created a new accident by parking their car that way.
In Lathen we all had a nice big ice-cream with a glass of could drink. And in Papenburg I had another big glass of cola. The temperature was between 35 and 40 degrees Centigrade that day.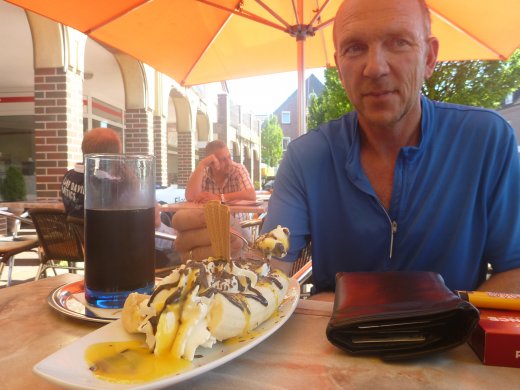 Some 1,5 kilometer before the campsite I noticed my right tire was getting soft. Probably a puncture because of a uneven piece of road when I crossed a bridge. I tried to make it to the campground and finish the tour without a puncture, but it didn't work. In sight of the finish I had to replace the inner tube.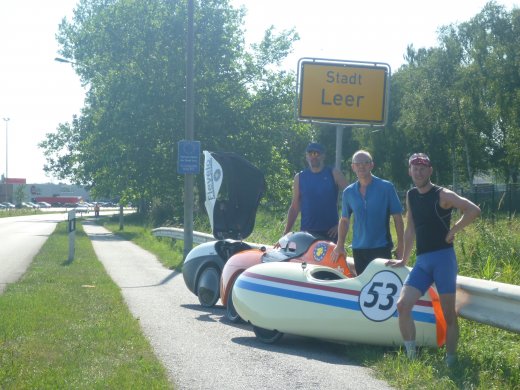 Once at the campground we treated ourselves to a big glass of Erdinger Weißbier. After that we lay in the grass (or on a mat for the sissies) to enjoy our 'victory'. In the evening we went to a Texas steakhouse just outside the campground for a nice big pice of meat. Other people had the same idea which meant we had to sit inside during the hot weather. I cycled 155 kilometers today.