Submitted by XL-Network on Wed, 2012-07-25 13:52

Feestboek (litteral translation: party book) is the name of a big party I play to organize on September 15th in honor of my 35th birthday. Last year I was busy cycling 5000 kilometers in America so I wasn't able to celebrate my birthday with the people in The Netherlands. I have some things to make up. The party should be twice as big! The idea is that you bring someone I don't know. That way you double the party spirit and you meet new people at the same time. And because Facebook, where this theme finds its inspiration, is all about friends, contacts and activities I had the idea to make a real-life version of Facebook. Feestboek it is!
Where, what and how?
Like I said before, you are expected Saturday September 15th in Groningen, with person I don't know. On arrival you will receive some Like stickers (among other finds) which you can stick on things you like. You can use them for instance at one of the activities that will be held that evening. Of course there are many other great Facebook ideas, but I'm not going to spoil it all. The only think I can say is that it's going to be fun. So don't miss it!
What's a party without music? And what's more fun then everybody's favorite music being played? That's why I've created a Spotify playlist where you can add some of your favorite songs. The list will be played during the evening. Of course the music has to be festive, but I think it speaks for itself.
Signing up for the party must be done on the Facebook page, also for the person you will bring along. That way I'll know how many people will be there and I can adjust the amount of food necessary. You don't want to have to much, or even worse, to little food.
Do you plan on coming, but you don't have a Facebook account? You don't have a Spotify account but you do want to add music to the list? Send me a email or fill out the contact form and everything will work itself out.
Where is all this fun going to take place?
On our rowing club KGR De Hunze at the Praediniussingel 32 in Groningen we have a marvelous and great space with a view over the Westerhaven (West harbor). Sitting on the terrace in the sun and enjoying yourself. There is enough room for at least 100 people. And of course we want to fill it all up. The both of you (you and 'the new guy/girl') are welcome at 8 PM. Come early and don't miss a thing.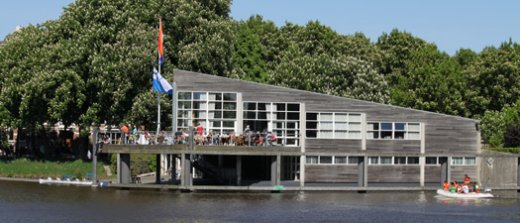 Want to spend the night?
For people who are coming from far away there is a place to stay for the night. Let me know as soon as possible if you want to make use of this offer, because the number of places is limited.
Finally I would like to say: spread the word! It could be that I wasn't able to reach everyone. So talk to everybody who know's me. It would be a shame that they would miss the party of the year.
In short the most important things.
Date: Saturday September 15th 8 PM
Location: KGR De Hunze, Praediniussingel 32 in Groningen
What to bring: yourself and a new guy/girl (and of course lots of fun)
Sign up: via Facebook or if you don't have a Facebook account via email / the contact form
Music: via the Spotify playlist or if you don't have a Spotify account via email / the contact form
Place to stay: via the email / the contact form
Other questions: preferably the comment form below or else via email / the contact form