Submitted by XL-Network on Mon, 2013-07-29 20:29
Yesterday me and Josef cycled from Bonn to Igel next to the Moezel to join the rest of the Euro Tour group. There was a forecast for thunder, but it didn't show up. We only had a lot of rain for the second pard of the ride.
Josef steadily pedaled on, but the fact that I didn't have to look at my navigation made up for that. Today was all about climbing and down hill. The first few hours it was partly clouded, but warm enough to work up quite a sweat. On Sunday people always race at the Nurnburgring so Josef made a route that goes around the roads leading there. We did however see a part of the race track. Not only the cars in the proximity of the trace were going fast, the cyclists to. In a down hill a managed to go up to, I think, 98 km/h.
The police also thought we were going to fast, because when we were going about 50 km/h through a village we encountered a Streiffenwagen (police car). A minute later it had made a U-turn, overtook us and switched on the blue lights. They only wanted to know if it had a engine.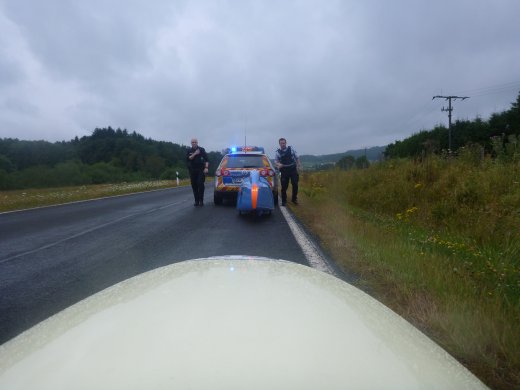 Half way on the ride we entered Daun and at the start of a old railroad trail we and something to eat in a old train wagon. Sausage with bread and a bowl of tomato soup.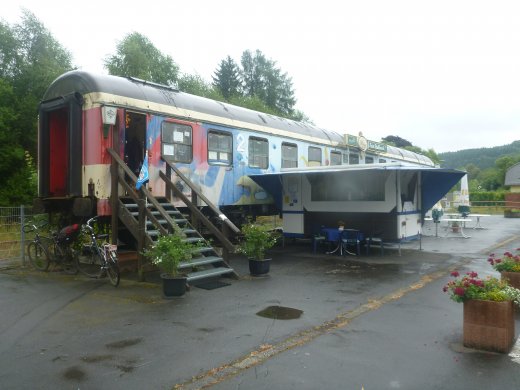 The railroad trail went up lightly which made cycling it very comfortable. Because it was a old track there were were also a few tunnels (a total of three or four I think). The longest was 560 meters long. The most fun were the last two tunnels. We took them with about 40 to 50 km/h.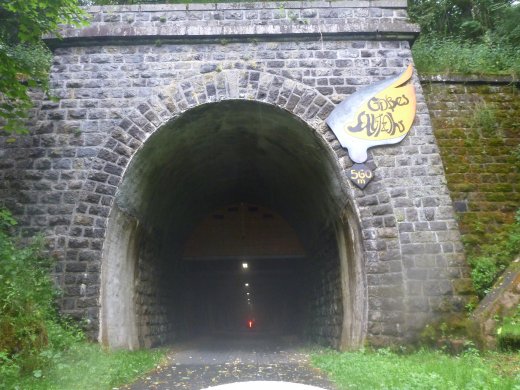 We unfortunately also had some bad luck. At the beginning of a new part of the railroad track Josef his rear tire bursted. The side wall of his Schwalbe Kojak was worn out (probably damage from a rock or something). The inner tire worked it's way out and bursted. With some tape we managed to fix the outer tire and we made it to Igel the last few hours. Tomorrow we will go to Trier to buy a new rear tire.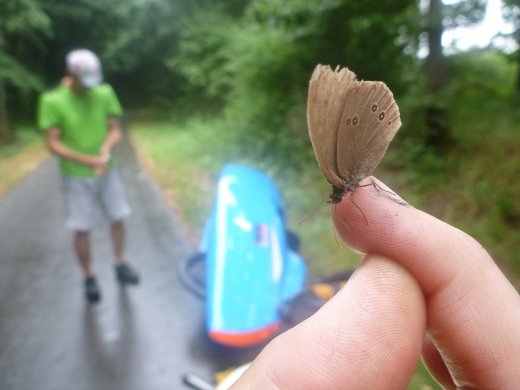 After some 175 kilometer we reached the camp ground in Igel. We were first to arrive and in the mean while it stopped raining. We put up our tent, took a quick shower and washed my cloths under some hot water. Afterwards we had a nice meal with some of the other people who arrived.