Submitted by XL-Network on Mon, 2013-07-29 20:41
After enjoying a wonderful meal yesterday (Jagersteak with fries) and enough (alcohol-free) drinks it was time for a goodnight sleep. The alarm clock only went of at 7 AM and just before 8 AM we took off. Together with Josef we went to Trier to get some breakfast. At one of the many bakeries we enjoyed the qualities of the German bakers. After that it was time to go the the Viehmarkt (Cattle market) for a press photo and a story. In total there were 11 velomobiles and 1 open recumbent for the pictures. A couple of people didn't want to be in the picture and had breakfast somewhere down the road. Someone also brought Josef a spare outer tire.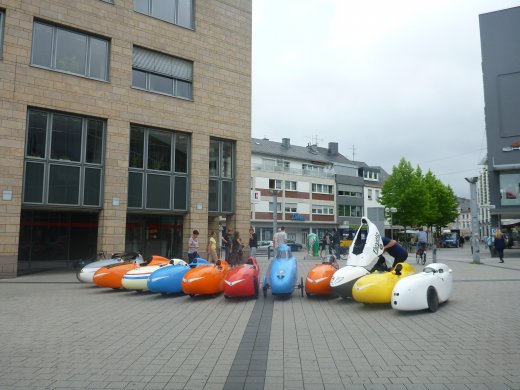 Today we did around 130 kilometers following the Moselle. That means no climbing and also no down hills, but nice and fast cycling over the primarily good cycle tracks right next to the Moselle. We weren't the only ones on the cycle track, but they were wide enough for us to go full speed past people. And full speed means about 37 to 38 km/h.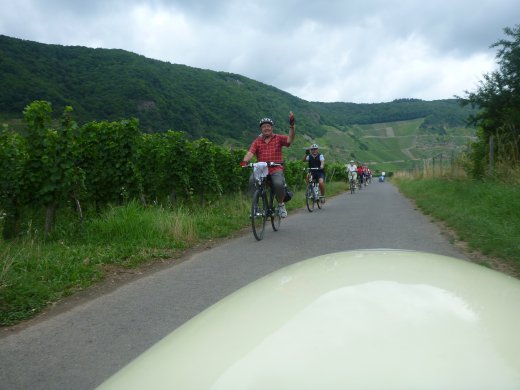 At 1 PM we had an 'appointment' in Bernkastel on the market square. Here someone from the press would be present to photograph our velomobiles and write a story in the (I presume local) newspaper. Unfortunately there were only four velomobiles which could be photographed. We did however received enough attention at the little square. In stead of the buildings being photographed it was our bikes.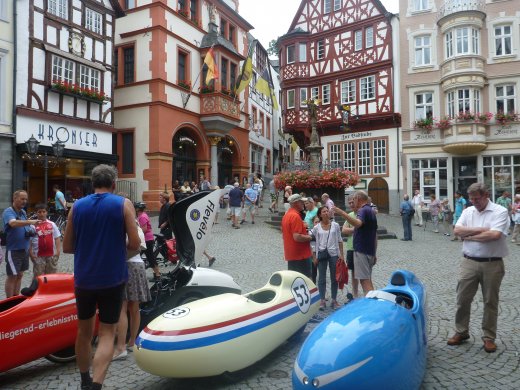 When we were leaving I wanted to get some water out of my Camelbak and noticed it came loose of the 'coat hanger'. That's weird... the same happened to my yesterday. At first I thought I hadn't attached the water bag properly, but twice in a row. No, that couldn't be. On further inspection it turned out that the coat hanger broke behind my right shoulder. I called Velomobiel.nl and they told me I could cycle on as long as I don't go over speed bumps at 70 km/h.