Submitted by XL-Network on Thu, 2013-08-01 19:14
The plan was to leave at 8 AM, but everybody was ready a half hour earlier. After some 30 minutes of cycling we arrived in Cochem and at Germania we had the 10,50 euro all-you-can-eat buffet. You don't have to tell a bunch of hungry bikers twice.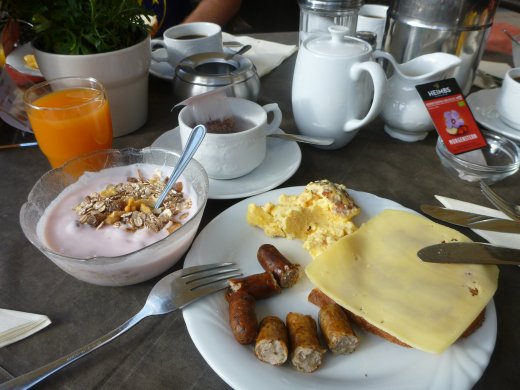 After Cochem we went straight to Koblenz. There were four bikes in our group and we really put the pedal to the metal (so to speak). The speed fluctuated between 40 and 45 km/h. When we arrived at the first set of traffic lights in Koblenz the average speed read 40,9 km/h. For 1:10 hour long. What do you mean holiday and take it easy? The city did however cut a big chunk out of our average. Only 37,5 km/h were left when we arrived at the ice salon at the Deutsche Eck (German corner). There we had a delicious cup of ice, yoghurt and forrest fruit. After that we went to the other side of the monument to wait for the other riders.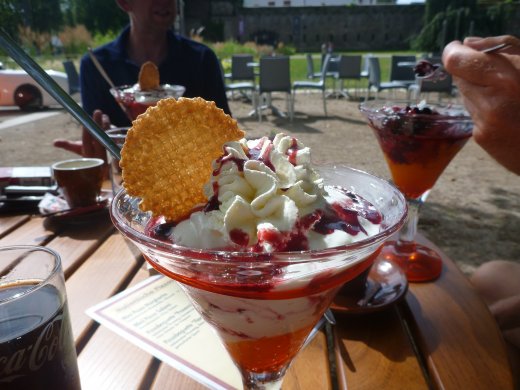 Of course you get the usual questions when standing there with a bunch of velomobiles. Then I saw a familiar face. Chris! En a few seconds later... Rene! I knew they were on cycling holiday too, but not that they were in the area. Turns out the also wanted to see the Deutsche Eck and suddenly spotted a velomobile. A while later they saw my number 53. And then me! We had a nice talk in the warm sun.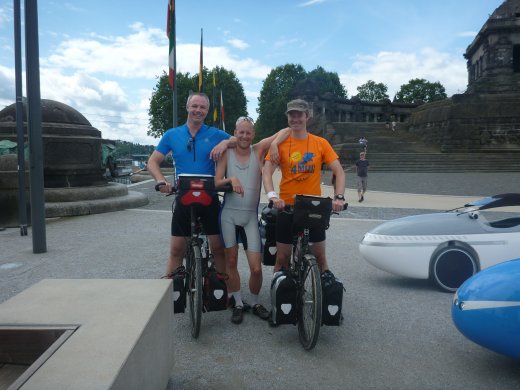 After a number diversions in Koblenz we eventually got back on the route along the Rhine. But not before being photographed by a busload of enthusiastically waving Chinese people. The destination for this day, Cologne. On the way there we stopped to buy some food at the local shops. At our stop in Remagen it suddenly started to rain lightly. After it dried up we continued our journey. Unfortunately that wasn't the only rain that day. When we were at the biergarten in Bonn (the same where I was last Saturday) were we were enjoying a big glass of Radler beer when it started to rain again. Good thing we were under a big tree which 'undo-ed' most of the rain.
Josef had a appointment at 8 PM and stayed home to sleep. The next day he would meet us at the campground at 8 AM. Hans (the other rider that was with us that day) rode the last stretch with us, but also went home half way to dry his cloths. Now it was only me and Mathias. Meanwhile I had archived todays track because we were almost there. Unfortunately the GPS froze and I couldn't reopen the track. Fortunately Mathias also had the track but a very simplified version which didn't exactly match all the streets. The last 5 kilometers it even showed a straight line to our destination. Fortunately my navigation skills are state-of-the-art, which brought us to the camp ground in no time. In the meanwhile it had stopped raining and once the tent was up it was time for a hot shower and some food in the restaurant upstairs. I had the penne with spinach and a very hot curry sauce. Yummy!
Today I cycled 161 kilometers.